Jensen Ackles
Jensen Ross Ackles (born March 1, 1978) is an American television and film actor. He is notable for his television roles as Eric Brady in Days of our Lives, Alec/X5-494 in Dark Angel, and Jason Teague in Smallville. He currently plays Dean Winchester on the CW series Supernatural.
Cool mens Hairstyles: Jensen Ackles faux hawk Style
Jensen Ackles faux hawk (fohawk) hairstyle
cool mens faux hawk hairstyle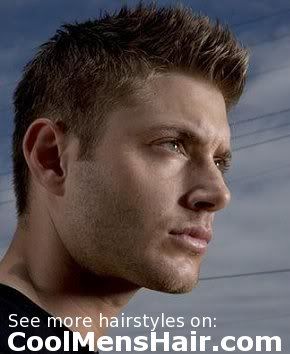 Ackles appeared as a bad guy in Dark Angel and was truly lovable (even though his bag guy image) for his stunning looks and an unkempt short hairstyle. However, the actor prefers to put on the Fohawk look quite often, making his thin mane go up in a forward motion. As Dean in Supernatural, Jensen Ackles again keeps it short, though he is frequently seen switching from his spiky cut to side shaved look.
Jensen Ackles faux hawk hairStyle for men